Looking for a new fishing bait that is both effective and easy to make? Check out this micro fishing dough bait recipe! Dough bait is perfect for catching micro fish, such as Dace and Darters, and can be prepared in just a few minutes. You probably already have the ingredients in the pantry to make this at home.
Dough Bait is Quick and Convenient for Micro Fishing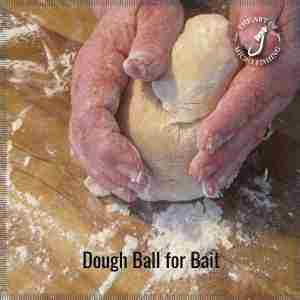 There's a few ways to make dough baits that work. Scent and flavor mixed in seems to work the best for me. Garlic powder, anise, cheese, and vanilla are commonly used. Small fish are attracted to dough baits. Even some large fish will take dough baits, like carp and mullet.
I like to put some garlic powder and egg yolk in my dough. A dash of vegetable oil will help keep it from sticking to your hands. Cheese crackers in place of some dough will give dough baits more flavor and more interest from micro fish. To a half cup of flour (I like chickpea flour) add an egg yolk, some cheese or cheese crackers, a splash of vegetable oil, and knead in a plastic bag until it comes together. This can be made by an angler days ahead of time or leftovers stored in the fridge for a few days.
If you are using a syringe to press out bait, sometimes referred to as "ant eggs", make your dough bait just a little softer so it flows from the syringe easily. You want it to resemble maggots or ant eggs in size and shape that tiny fish would eat. Otherwise, make your dough hard enough and dry enough that it is moist but quite firm and doesn't stick to your hands excessively.
Dough Bait Can Be Expressed From a Plastic Syringe For Imitation Maggots or Ant Egg Micro Fishing Baits
Make a lumpy ball by mixing half a cup of flour with just enough water to stick it all together. Rub the dough with extra flour if it is too watery. Flatten the dough ball into a ½ inch thick cake and microwave it for 20 or 30 seconds on a piece of kitchen parchment or waxed paper.
Pinch the edge and roll it between your fingers to see if it balls up or if it smears around your fingertips. If it smears on your fingertips cook the bait for another 10-15 seconds. Ideally, dough baits will be a little firm and rubbery so that the dough doesn't get picked off quickly by the fish.
Cover the Hook Shank With Dough Bait to Catch More Micro Fish
To use the dough bait simply pinch off a piece and roll it between your fingers. Mash it onto the micro hook. Try not to bury the barb too deep and put most of the bait on the shank. The same principal applies to the syringe method. Hold the syringe in one hand and the hook between your thumb, index, and middle finger and press an "ant egg" out onto the hook. Your microfishing rig is now baited and ready to fish.
Micro fishing with dough bait is quite product for many species. Some species are just not fond of dough bait. It makes a great all around bait that is easy to make and store. It can be ready in minutes when worms or other baits aren't available. It's always helpful to have this option for micro fishing when the opportunity arises or you are fishing creek pools. Make some for your next micro fishing trip and let us know how good your results were.
by Edward Johnson