10 Pack #30 Size Pre Snelled 30cm Micro Fishing Hooks
Each micro hook is snelled onto a 30cm leader with a 5mm loop at the other end for easy use. There's no fumbling around trying to tie hairlike fishing line to a tiny hook. Simply take the hook off the packaging and snap it on a snap swivel or Lillian loop on your pole. You will be micro fishing in moments.
During our testing phase, we caught 35 species of fish ranging from under an inch in length to around 7 inches.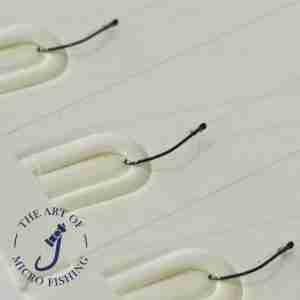 The Aldridge #1 hook is a micro hook that is built for maximum catch. It is better than a dry fly hook meant for bigger game fish and the Tanago hook specifically for Tanago (a small carp). The result is a slightly thicker hook with a larger barb. We like it much better than the most popular Tanago hooks. Tanago hooks were designed for Tanago or Tokyo Bitterling. Tim and I wanted a better hook that would perform in North America and beyond. It's been a hit! These micro hooks work wonders compared to most other micro hooks in their class. Try them and see for yourself!
Micro fishing is a subset of fishing where anglers try to hook the smallest fish species possible. Generally, fish under 8 inches or 20cm are considered micro-sized fish. Tanago fishing in Japan is where micro fishing got its start. Japanese fishermen set out to catch the smallest Tanago, also known as Tokyo Bitterling, which is a small carp. In North America, these Tanago hooks were lacking. Tanago hooks may work well for a tiny carp species in Japan but were lacking when it came to the 800 species of freshwater species alone in North America.
We get a lot of questions about micro fishing and Tanago and Tenkara. Tanago is a small fish in the carp family that is found in Japan. Tenkara is a type of fixed length fly fishing. Tenkara fly fishing has no reel. Tenkara fly rods have no rod guides. The fly line is connected to the tip of the Tenkara rod and is used in a fashion similar to conventional fly fishing as we know it in the West. Tenkara is best suited for small mountain streams without much room for long back casts. Tanago fishing and Tenkara fly fishing are similar to micro fishing but they are not one and the same. Tanago and Tenkara are specialized types of fishing where micro fishing targets all sorts of micro fish species.
10 x Pre Tied Size #30 Hooks


30cm 2lb Leader
Loop on Leader For Easy Use
Cardstock Packaging No Plastics
Lifelisters often target micro-sized fish to add new species as most fish on Earth are smaller. They aren't the only ones seeking out colorful little fish. Aquarium enthusiasts also use micro fishing to catch aquarium fish tank specimens. Tim and I both keep fish we catch on hook and line in the aquarium. Angling with hook and line causes less habitat destruction than netting. Aldridge hooks have a very low mortality rate and we lose very few specimens for the aquarium when caught on hook and line with our hooks.
If you're looking for a superior fishing hook to make your next micro fishing outing a success look no further. Pre snelled Aldridge #1 micro fishing hooks are sharp, strong, and super convenient. You will be pleased with them in your tackle kit.
Ships from Idaho, USA.
Also ships from Balgowlah, NSW Australia for Australian Customers Only.
Shipping within Australia (for Australian Customers Onlty) 7 -10 days
Shipping to Canada 2 to 3 weeks
Shipping to Europe 2 to 4 weeks
Shipping to Asia 12 to 4 weeks